Home Office and digital, virtual working methods are on everyone's lips, but by no means possible and feasible for every organization. A question of corporate culture!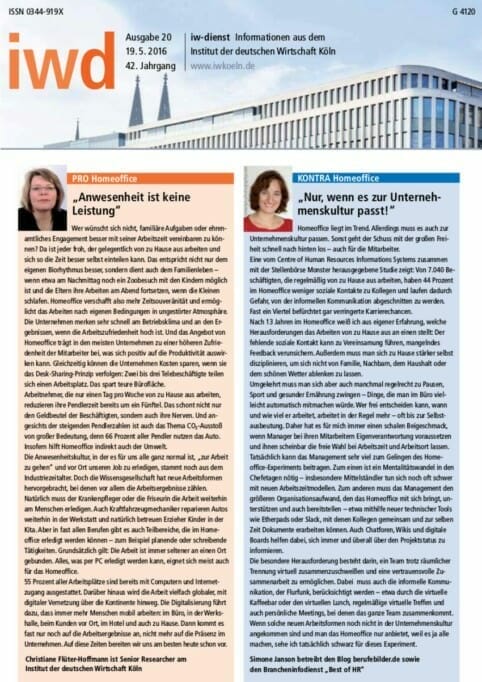 A trend that is spreading
Home office - a trend that is spreading. At first it was only big Company like Coca Cola or Microsoft, today more and more companies who want to appear hip and cool in the course of employer branding are giving their employees the freedom to choose where and when they work. Sounds good - but the home office must also fit into the corporate culture and management must be geared towards it. Otherwise the shot with the great freedom will quickly backfire - also for the employees.
First of all, a few facts: A study by RW3 CultureWizard, a company consultancy under 30.000 employees, shows that digital work across locations and national borders is already part of everyday life. 87% of the management and 50% of the employees of multinational corporations do their work at least partly virtual. 75 percent of respondents said it is difficult to develop trust in virtual teams. 79 percent lamented too little time for the relationship building and 71 percent too little interest.
At 33 percent, half of the team members did not live in their own country, so the time zones were different Communication make more difficult. And 70 percent are bothered by cultural differences in conflict management, especially since 41 percent have never met their virtual colleagues in person. A study published by CHRIS at the University of Bamberg together with the Monster job exchange also shows: Of 7.040 participants, 43,8 percent of those surveyed in the home office have fewer social contacts with colleagues and run the risk of being cut off from informal communication. And 24,3 percent even fear reduced career opportunities.
The psychological experiences of the home office
After many years in the home office, I know from my own experience what psychological challenges the home office can pose to employees: The lack of social contact can lead to loneliness. Missing Feedback especially with the little things can make you feel insecure. It is not for nothing that coworking spaces are very popular among freelancers, which precisely simulate the office feeling and provide opportunities for regular exchange and networking.
In addition, you have to discipline yourself more strongly in the home office in order not to be distracted by family, neighbors, the household or the beautiful weather. On the other hand, you sometimes have to force yourself to take breaks, exercise and eat healthily - things that you might automatically go along with in the office. Those who are free to decide when and how much to work usually work more and often to the point of self-exploitation.
Tip: Text as PDF (please read the instructions!) or to this text complete eCourse or series Download. Actions or news via Newsletter!
Home office from the perspective of companies
Some time ago I interviewed Nadine Ziese, Personnel Director at Coca-Cola Germany. Ziese was promoted to this position in 2012 at the age of 31 and has made a significant contribution to ensuring that the company leaves its employees free to choose where they want to work.
Zuvor hatten die Mitarbeiter sechs Tage im Jahr zur Verfügung, an denen sie im Homeoffice arbeiten konnten. Seit diesem Jahr können sie von der Möglichkeit Gebrauch machen, so oft sie wollen. "Wir bieten keine Telearbeitsplätze, sondern flexible Arbeitsmöglichkeiten", sagt Ziese. In Gesprächen mit Mitarbeitern hat sie festgestellt, dass die Meinungen zum Thema Homeoffice durchaus geteilt sind: "Die einen finden die Flexibilität, die Vereinbarkeit mit der Familie toll, den anderen fehlt der Flurfunk."
The employees are free to choose
Der Personaldirektorin ist es wichtig, dass die Mitarbeiter die freie Wahl haben und nicht zusätzlich kontrolliert werden: "Wer selbstbestimmt arbeitet, ist produktiver und motivierter. Wir wollen unsere Mitarbeiter an den Resultaten messen und nicht mehr daran, wie viele Stunden sie gearbeitet haben. Denn nur so können wir eine Kultur von Selbstbestimmung und Flexibilität prägen."
Dazu gehört aber auch, dass die Mitarbeiter selbst die Verantwortung übernehmen: "Das Homeoffice ist kein Allheilmittel. Man muss sich dabei auch mit den Bedürfnissen seiner Kollegen auseinandersetzen. Jeder muss schauen, wann seine Präsenz erforderlich ist, aber sich gleichzeitig auch genug Pausen und Freizeit einräumen." Ziese weiß, dass das ein schwieriger und langwieriger Lernprozess ist. Sie selbst zählt ihre Arbeitsstunden übrigens auch nicht: "Mir ist wichtig, dass ich am Ende der Woche meine Aufgaben erledigt habe, aber auch dass ich Sonntag abends sagen kann, dass ich eine erfüllte Zeit mit der Familie verbracht habe."
Self-responsibility with Beigeschmack
Für mich hat es allerdings immer einen schalen Beigeschmack, wenn Manager Eigenverantwortung bei ihren Mitarbeitern voraussetzen und diesen scheinbar freie Wahl bei Arbeitszeit und Arbeitsort lassen. Hört man nämlich genauer hin fallen Sätze wie: "Natürlich muss jeder selbst wissen, wie oft er fehlen kann, wenn Führungsaufgaben oder Teamentscheidungen anstehen", die Mitarbeiter auch schnell unter Druck setzen. Tatsächlich bin ich der Ansicht, dass das Management sehr viel zum gelingen des Home-Office-Experiments beitragen kann.
Exactly this aspect has so far hardly been considered in many discussions: The question of what advantages and experiences companies have made with home office arrangements, and whether this actually makes employees more productive. And whether this is ultimately reflected in numbers and profits - regardless of the question that companies can save pure office space by working from home.
The bare numbers
At Coca-Cola there are probably good reasons for such measures - for example, that future employees of younger generations value flexible working hours and the company wants to remain attractive for this high potential. What I am missing, despite all the commitment, are verifiable facts and figures that allow a statement to be made about whether and how flexible working hours actually pay off on the productivity of the employees and thus on the company's profit. Presumably that cannot be said in the short time - and beyond that: How did you want to put that in relation?
However, reference should be made at this point to the analysis by Prognos AG, which was published in 2005: It calculates a return on investment of 25 percent for family-friendly personnel measures from the controlling figures of companies. The potential savings of the participating medium-sized companies amounted to several 100.000 euros each.
Why do companies struggle with new working time models?
This shows that it is an advantage for many companies if they allow their employees flexibility and freedom of choice - especially with regard to the compatibility of work and family. The employees will be there for them with increased Motivation and productivity. In many companies, however, traditional structures prevail: The Manager wants to see and control that his employees are also doing something.
Meine Recherchen haben gezeigt, dass gerade Mittelständler sich schwer tun mit neuen Arbeitszeitmodellen: Zwar wird auch hier verstärkt flexibles Arbeiten nachgefragt, etwa wenn Kinder da sind. Die Firmen bieten dann auch familienfreundlichere Arbeitszeiten an, bei denen die Mitarbeiter aber drei Tage in der Woche im Büro sein müssen, man eröffnet lieber einen Betriebskindergarten oder ähnliches. Das zeigt, dass der Weg zur komplett freien Arbeitszeiteinteilung offenbar nur über kleine Schritte erfolgen kann. Eine Frage der Unternehmenskultur die nach dem Motto "Das haben wir immer so gemacht" nur langsam aufbrechen wird.
Increased organizational effort
Another problem is undeniably the increased organizational effort: How to reach colleague X if he prefers to work at night or in a different time zone? I experience again and again that employees want to grab the phone quickly. Here, rethinking and new technical tools are required: away from the dialogical, including the eMail involves towards the collective virtual work.
Instead of talking about a project, colleagues can work on documents together, for example using Etherpads or project management tools such as Slack. Everyone knows what the other has contributed. And it saves time because you don't have to wait for others to edit or not know exactly which version of a document is the latest. Chat forums, wikis and digital boards also help everyone Team-Members to find out about the project status and results anytime, anywhere.
Networked with the iPad
For example, at the American photography agency Shutterstock, small teams usually work on projects over long distances and in different time zones. Are used here eMail, Skype, Google Hangout, and cloud-based collaboration tools like Google Drive. But it also simulates the normal office situation, including a foothold, many product developers work in different locations while working constantly talking about iPads together.
This shows that the particular challenge is to virtually weld a team despite the physical separation and to enable a trusting collaboration. This is a task with which more and more companies have to deal with increasing global networking.
Team virtual together
When it comes to keeping teams virtually together, the informal communication, the Flurfunk, must also be taken into account. Sounds difficult because digital communication is usually purposeful and leaves little space for random encounters.
But remedial measures can also be found here, for example through the virtual coffee bar or the virtual lunch, regular virtual meetings and personal meetings where the whole team comes together. If such new forms of work have not yet arrived in the corporate culture and you just graft on the home office because everyone does it like that, I actually see black for this experiment.
Buy text as PDF
Acquire this text as a PDF (only for own use without passing it on according to TERMS & CONDITIONS): Please send us an eMail with the desired title to support [at] berufebilder.de, we will then send the PDF to you immediately. You can also purchase text series.
3,99 €Book now
Find out more - our books on the subject
Or for a little more directly buy a whole book or eCourse on this topic, read on. Here you will find a suitable selection.
Buy eCourse on Demand
Up to 30 lessons with 4 learning tasks each + final lesson as a PDF download. Please send us an eMail with the desired title to support [at] berufebilder.de. Alternatively, we would be happy to put your course together for you or offer you a personal, regular one eMail-Course - all further information!
19,99 €Book now