Whether it is standing up tables, fengshui, gymnastics balls or green plants: the topic of health has a boom in office design. We give 5 tips for optimal workplace design.
1. Healthy indoor climate: plants and feng shui
A healthy indoor climate is a decisive aspect in office design. Even if too much personal work is not always seen in the workplace, there are so many other possibilities of transformation and the sauna or cocktail bar does not have to come to the office. Why not simply convince the colleagues, who have the famous green thumb, to bring plants into the office. Or simply knock at the door of the boss and try to order a nurturing plant package.
Denn gerade zur kalten Jahreszeit, in der der kühle Luftzug beim Lüften ungern gespürt wird, ist es wichtig, die Luftfeuchtigkeit im Raum zu erhalten. Die Luftfeuchte sollte für das "Wohlfühlarbeiten" bei circa 50 Prozent liegen, im Winter liegt sie jedoch häufig bei nur 30 Prozent. Pflanzen befeuchten die Luft, beugen so Schnupfnasen vor und steigern außerdem die eigene Produktivität. Also ein grünes Wunder, wenn das nichts ist! Pflanzen, die sich für das Büro eignen, sind Zimmerlinde, Zyperngras oder die Efeutute.
And whoever says the green is not enough for me, can deal with Feng-Shui measures, because these allow individual, productivity-enhancing healthy working concept for the desktop environment.
2. More sport: stretching, stretching and moving
In any case, we should move away from the rigid position once or twice a day in front of the screen - if the work is not already done. We spend about a third of our lives in the office, often in a fixed position for eight hours. But: joints must be moved to stay supple!
But how can you get exercise? Jogging along the long office hall in a running dress or in between running on the trampoline Jumping Fitness, das kommt beim Manager sicher nicht gut an. Aber jeder Chef ist verpflichtet, die Arbeitsplätze ergonomisch zu gestalten, so dass eben zum Beispiel keine Rückenschmerzen beim täglichen Blick auf den Monitor entstehen. Zur ergonomischen Arbeitsplatzgestaltung, die für Wohlbefinden hinter dem Schreibtisch sorgt, können folgende Punkte gehören:
Tip: Text as PDF (please read the instructions!) or to this text complete eCourse or series Download. Actions or news via Newsletter!
A lectern,
a portable phone or a mobile headset that provides more exercise
sufficient distance between eyes and screen (about 50 and 80 centimeters) and
a chair back that supports the double S shape of the spine.
Is all this given? Best times just the Check the workability of the workplace, Generally, the day in the office should be about 50 percent of seats and about 25 percent of standing and moving outside the office. So how about a short walk in the break?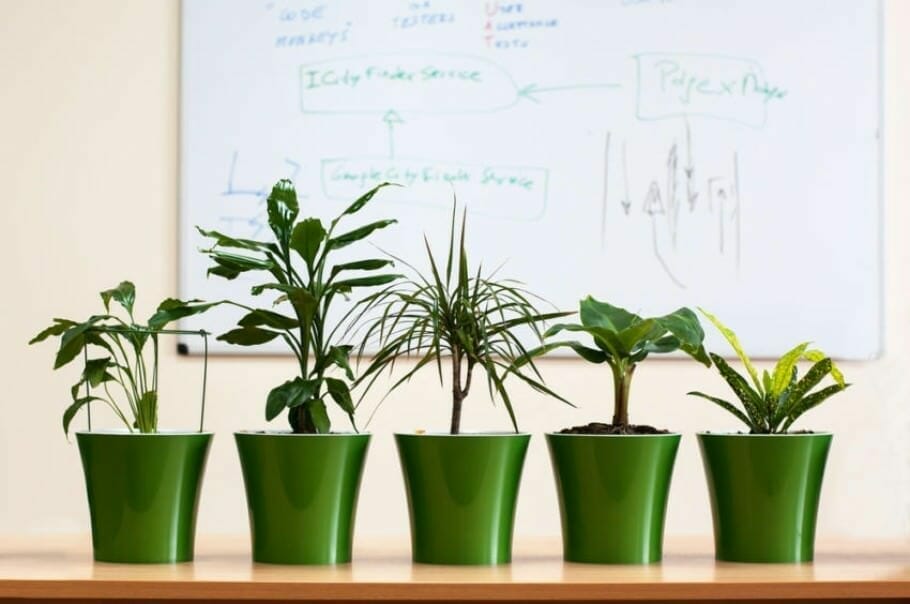 3. More communication: health factor colleagues
Communication ist der Schlüssel zum Erfolg – und auch zur eigenen Gesundheit. Aber es kommt natürlich – wie jeder weiß – immer darauf an, wie etwas kommuniziert wird und wem man so gegenübersteht.
It should be said that the obligatory small talk again and again helps to break barriers even easier the introduction into the unloved feedback discussion. Small-talk in the office helps to build trust and create a healthy working atmosphere, where it is easy, but not too loose - because the work has to be done.
And as much as we like to chat about the latest gossip from the celebrity or office world - please postpone it to the conversation over a coffee around the corner during the break, because gossip, i.e. really negative gossip, can quickly create a good mood - and the career - destroy.
4. Healthy teamwork through open office design
Of course, sitting alone at the desk all day with a closed door is not something for everyone. Especially when it comes to tasks in the Team To solve or just take a breath, a nice desk neighbor is not unwelcome. Thus, the workplace should be designed to provide opportunities for retreat but also room for community. Because good cooperation also promotes good health.
And community not only takes place in the meeting room, but also in the cafeteria or the kitchen with sufficient seating. An open office design concept, which offers flexible areas for different employee demands, is a vision of the future, which can be even more individualized on the own ideas of a pleasant workplace, which takes the best of one with the aid of different design options.
5. Creative office design: We create it!
Einfach mal kreativ sein! In den meisten Büros gilt immer noch die bekannte "vornehme Zurückhaltung". Vornehmlich in der Kreativ- oder StartUp-Branche sehen die Büros jedoch häufig anders aus: Da hängt nicht nur ein buntes Gemälde an der Wand, sondern die Wand ist gleich ganz mit Moos bedeckt und ein ausrangierte Kinosaalsitze im Wartebereich sowie ein auffälliger Kronleuchter im Eingangsbereich stimmen die Gäste schon einmal auf die hippe Unternehmenskultur ein.
Especially in modern, young start-ups, craziness ensures recognition. In addition, creative and motivating stimuli can be provided different design ideas for the work environment sowie Teambilder setzen, denn diese sind meist positiv besetzt und schaffen ein Gemeinschaftsgefühl, das wichtig für die Gestaltung der "Wir schaffen das-"Mentalität und somit für eine gesunde, optimistische Arbeitsatmosphäre verantwortlich ist.
Buy text as PDF
Acquire this text as a PDF (only for own use without passing it on according to TERMS & CONDITIONS): Please send us an eMail with the desired title to support [at] berufebilder.de, we will then send the PDF to you immediately. You can also purchase text series.
3,99 €Book now
Find out more - our books on the subject
Or for a little more directly buy a whole book or eCourse on this topic, read on. Here you will find a suitable selection.
Buy eCourse on Demand
Up to 30 lessons with 4 learning tasks each + final lesson as a PDF download. Please send us an eMail with the desired title to support [at] berufebilder.de. Alternatively, we would be happy to put your course together for you or offer you a personal, regular one eMail-Course - all further information!
19,99 €Book now