The hamster wheel illusion - that's what it's all about on September 8th and 9th in Stuttgart at the Executive Health Day, the event for our book of the same name, where Simone Janson and Best of HR - Berufebilder.de® author Dr. Dennis Mourlane participated.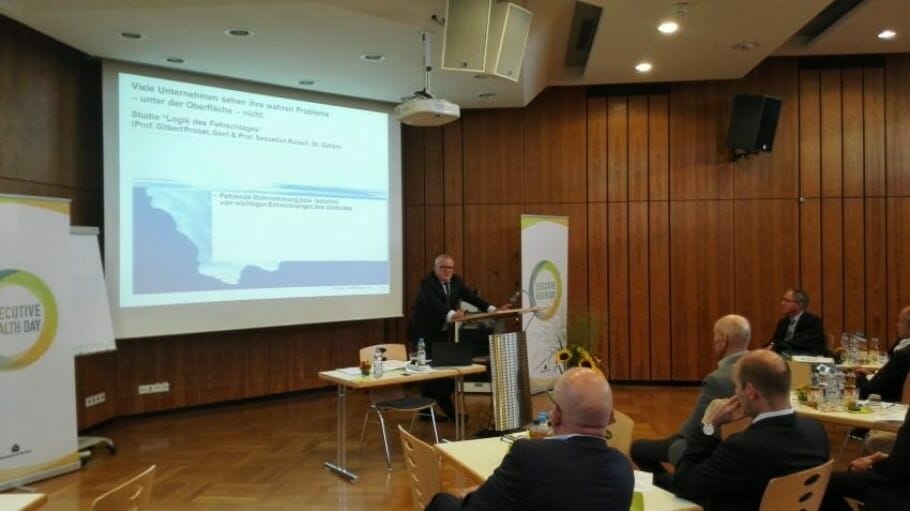 Between flow and hamster wheel
You love your work and see the challenge as an opportunity. They make a difference in yours Company and give everything.
But you probably also know moments in which you experience first-hand how thin the line can be between staying long and breathless, between the euphoria of success and the thoughtfulness that is the basic human need Sense arises.
What is Executive Health?
Executive health means keeping the tension between the two poles alive without exhausting yourself or giving up. Objective it is that the leaders draw freely from their being and enjoy their vitality.
As is possible today, we want to discuss and test this together with you at our Executive Health Day. Among the speakers will also be Thomas Sattelberger, former head of Telekom's staff.
It is an exclusive forum for exchanges in small groups and at eye level with selected top executives. After that we can certainly leave the good old hamster wheel to the hamsters again.
Tip: Text as PDF (please read the instructions!) or to this text complete eCourse or series Download. Actions or news via Newsletter!
Our book on the subject
The Executive Health Day is organized by the management consultants Steinbach und Partner, who also published the book of the same name in Springer-Gabler-Verlag. The executive health experts are:
Dr. Hendrik Hüttermann, University of St. Gallen: "Research spotlight:" The influence of leadership on mental health "
Armin Lutz, managing director of danova GmbH: "Physical health - practical approaches for healthy leadership"
Dr. med. Jürgen Rieke, neurologist, epileptologist and psychiatrist: "The basic needs of people and their influence on their health"
Prof. Dr. med. Robert von Känel, Head of Psychosomatic Medicine at the Barmelweid Clinic, Canton Aargau / Switzerland: "Stress and its effects on our physical health"
Prof. Dr. med. Götz Mundle, addiction researcher, psychiatrist and psychotherapist, Center for Mental Health: "Drug and Substance Abuse in Management"
Jürgen Mette, Protestant theologian and publicist, speaker for the Marburg Media Foundation: "Managers without managers - constructive handling of illness"
Simone Janson, columnist for "DIE WELT", cooperation partner of the FAZ Institute and editor of BERUFEBILDER: "self-management: Work organization and productivity in digital change "
Prof. Dr. Matthias Burisch, psychologist, head of the Burnout Institute North Germany: "Stress-related illnesses and their psychological effects - early detection of burnout"
Dr. Denis Mourlane, Psychologist, Managing Director: "resilience in everyday management "
Matthias Onken, journalist, former editor of "BILD", founder of the Matthias Onken media agency: "Strategies for dealing with burnout"
Gregor Wilbers, business graduate, executiveCoach, Founder of the institute "Finding meaning in work": "Inner balance and mindfulness in management"
Dr. Friedrich Assländer, studied business administration, sociology and Psychology, Management trainer, coach and consultant: "Healthy people as a spiritual task: Christian principles for everyday management"
Paul J. Kohtes, founder of the PR agency Kohtes Klewes, Zen teacher: "Zen and the art of being healthy"
Dr. Alexander Poraj, theologian, former managing director of the psychosomatic specialist clinic group Oberbergkliniken and spiritual director Benediktushof: "The meaning of the search for meaning"
Prof. Dr. Christoph Berg, Dean for Business Psychology, University of Economics and Management, Hamburg: "How person, position and situation can be reconciled"
Dr.-Ing. Peter Becker, Managing Partner, Steinbach und Partner: "Executive 4.0 - Requirements for executives in a digital world"
Skate eBook buy according to your requirements
Would you like a book on a topic of your choice? We would be happy to put together a book according to your wishes and deliver it in a format of your choice. Please write to us at support [at] berufebilder.de
62,61 €Book now
Corporate publishing and advice
Do you want to publish, increase your reach or address applicants as an employer? We offer specials for these and other topics Consultant packages (overview) - For example, a personal phone call (price is per hour).
179,99 €Book now