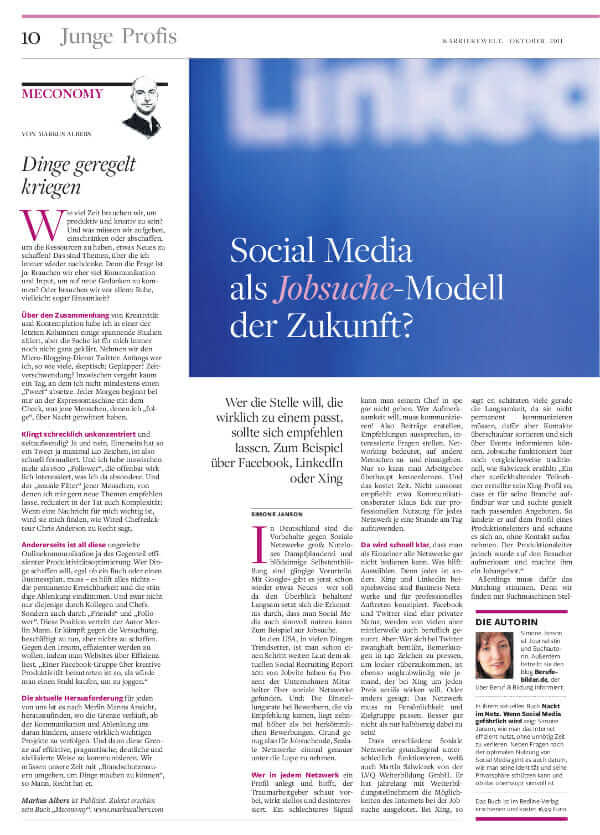 The best and most effective way to find a new job that fits your skills is to be recommended. Social media helps. Deciding is how to use it.
Reservations about modern forms of communication
In Germany, reservations about social networks are high: Useless steam chatting and stupid self-disclosure are common prejudices. With Google+ there is already something new - who should keep an overview? But slowly the realization is gaining ground that social media can also be used sensibly: For example, to find a job.
In the United States, in many ways a trendsetter, you are one step ahead: According to the latest Social Recruiting Report 2011 from Jobvite, 64% of the Company Employees found via social networks. And: The recruitment rate for applicants who came via a recommendation is ten times higher than for conventional applications. Reason enough for job seekers to take a closer look at social networks.
Please don't look aimless
Who in each Network creates a profile and hopes the dream employer will drop by, appear aimless and disinterested. One can give a worse signal to his Manager in spe not even give. If you want attention, you have to communicate! So make contributions, make recommendations, ask interested questions. Networking means approaching and responding to other people. This is the only way to get to know employers at all. And that takes time. It is not for nothing that communications consultant Klaus Eck recommends spending an hour a day on each network for professional use.
That's going to be fast clearthat as an individual one cannot operate all networks at all. What helps: choose. Because each is different. Xing and LinkedIn, for example, are business networks and designed for professional appearance. Facebook and Twitter are more of a private nature, but are now also used by many for work. But: Anyone who tries compulsively on Twitter to squeeze comments into 140 characters in order to come across easily is just as implausible as someone who wants to appear serious on Xing at all costs. Or to put it another way: the network must match the personality and target group. Better not at all than only half-heartedly!
Every network works differently
Martin Salwiczek from LVQ knows that different social networks function fundamentally differently Further Training GmbH. For years he has been exploring the possibilities of the Internet when looking for a job with further training participants. At Xing, he says, many particularly appreciate the slowness, as they don't have to communicate permanently, but can sort contacts in a manageable way and find out about events.
Tip: Text as PDF (please read the instructions!) or to this text complete eCourse or series Download. Actions or news via Newsletter!
Finding a job here is still comparatively traditional, as Salwiczek explains: "A rather reserved participant created his Xing profile in such a way that he could be found for his industry and looked specifically for suitable offers. So he landed on the profile of a production manager and looked at it without making contact. However, the production manager became aware of the visitor and made him a job offer. "
The matching has to be right
However, the matching must be correct. We only find job advertisements and applicant profiles with search engines because they are provided with the appropriate titles and keywords. Job search only works so quickly and practically if you can also enter suitable search terms in the fields - for example with clearly defined, easily understandable job titles. This is a problem for more and more people. Career counselor Svenja Hofert knows about the difficulties of finding suitable jobs in job markets.
Because there are often different names for the same job: "What kind of job am I looking for if I want to work in marketing with a supporting role? The corresponding job can be advertised as a marketing assistant, but also as a project assistant or chief secretary. "According to Hofert's research, it only gets really difficult with highly qualified positions that require specialist knowledge. Because: "The same activities in the area of ​​sustainability could be found under 'academic staff', 'manager sustainability', 'staff sustainability' and 'expert sustainability'."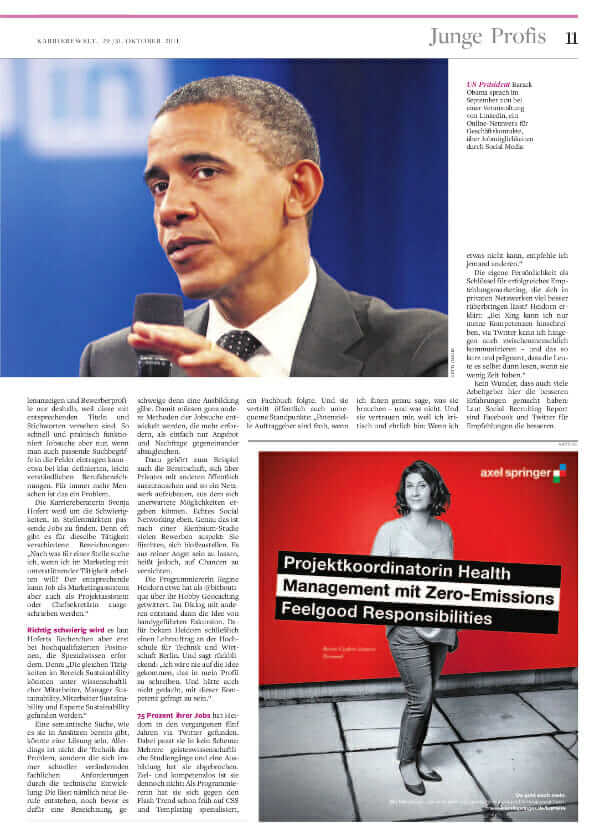 Semantic search as a solution?
A semantic search, as it already exists in the beginning, could be a solution. However, it is not the technology that is the problem, but rather the ever faster changing technical requirements due to technical development: This creates new professions even before there is a name for it, let alone training. This means that completely different job search methods have to be developed that require more than simply comparing supply and demand.
This includes, for example, the willingness to exchange information publicly with others about private matters and thus to build up a network from which unexpected opportunities can arise. Real social networking. According to a Kienbaum study, this is exactly what many of them are apply suspicious: you are afraid of exposing yourself. Leaving it out out of sheer fear, however, means foregoing real opportunities. The programmer Regine Heidorn, for example, tweeted about her hobby geocaching as @bitboutique. In dialogue with others, the idea of ​​a cell-phone-guided excursion emerged. For this, Heidorn finally got a teaching position at the Berlin University of Technology and Economics. And, looking back, says: "I would never have thought of writing that in my profile. And would not have thought that this competence would be in demand. "
Heidorn found 75 percent of her jobs via Twitter in the past five years. But she doesn't fit into any scheme: She dropped out of several humanities courses and an apprenticeship. Objective- And yet she is not without competence: As a programmer, against the Flash trend, she specialized early on in CSS or frontend development and templating, a specialist book followed. And she also takes uncomfortable positions in public: "Potential clients are happy when I tell them exactly what they need - and what not. And they trust me because I am critical and honest: if I can't do something, I recommend someone else. "
Your own personality as the key to successful referral marketing, which can be conveyed much better in "private" networks? Heidorn explains: "At Xing, I can only write down my competencies, but I can also communicate with people via Twitter - and this so briefly and concisely that people read it even when they have little time." No wonder that many too Employers have had better experiences here: According to the Social Recruiting Report, Facebook and Twitter are better sources than business networks for recommendations - and thus point the way to the job search of the future.
Buy text as PDF
Acquire this text as a PDF (only for own use without passing it on according to TERMS & CONDITIONS): Please send us an eMail with the desired title to support [at] berufebilder.de, we will then send the PDF to you immediately. You can also purchase text series.
3,99 €Book now
Find out more - our books on the subject
Or for a little more directly buy a whole book or eCourse on this topic, read on. Here you will find a suitable selection.
Buy eCourse on Demand
Up to 30 lessons with 4 learning tasks each + final lesson as a PDF download. Please send us an eMail with the desired title to support [at] berufebilder.de. Alternatively, we would be happy to put your course together for you or offer you a personal, regular one eMail-Course - all further information!
19,99 €Book now