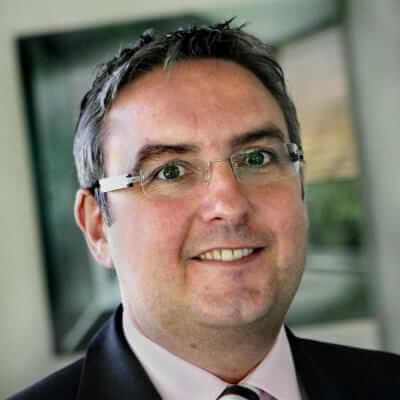 Thomas Egenter is Human Resources Manager at Hansgrohe, a medium-sized company Company based in the Black Forest. In the interview, he talks about his experiences with home office regulations, the reaction to the Skills shortage and Employer Branding in medium-sized companies.
Thoma Egenter studied industrial engineering at the University of Applied Sciences Schwenningen and wrote his diploma thesis in the area of ​​Human Resources. Since graduating from 1992, he has been with Hansgrohe, a mixer and shower manufacturer, initially as head of commercial training, later as a Personnel Officer, Head of Payroll, as well as Head of Corporate Procurement. Since 2000 he has been the personallee of German society.
Mr. Egenter, flexible workplace and home office regulations are not often found in medium-sized companies.
For us, flexible workplace regulations are completely normal; at our Schiltach site, around 2.200 of the 30 employees work on teleworking stations and around 80-100 in teleworking stations Home Office.
What is the difference between home office and teleworking?
Teleworkers work at home for one or two days a week. These days are also contractually fixed.
The home office regulations are more flexible: employees can stay at home overnight and work on a project, for example. This is not contractually stipulated, but our employees have to register home office times in the system so that in the event of an accident we can prove to the insurance company that they actually worked at home.
Tip: Text as PDF (please read the instructions!) or to this text complete eCourse or series Download. Actions or news via Newsletter!
In which areas do employees work from home or telework?
For example, in human resources, accounting, sales or IT - actually in virtually all areas except in production and in production-related areas.
How does the home office regulation look like - can employees go home when they want?
Not quite. If someone wants to work at home four days a week, that is not possible, we allow a maximum of two days a week. Even if appointments were to be missed because of the home office, that would be absurd. But our employees have just as much personal responsibility, which is why we trust them to manage it themselves.
If, for example, my employee from the personnel development says that she stays at home tomorrow to prepare a project, that is no problem. With this arrangement we have consistently had positive experiences.
There are companies that allow their employees to work completely from home. Isn't the German middle class still a little old-fashioned?
No, this has nothing to do with it. This is simply an organizational question: in our company, there are a lot of coordination processes, so the employees have to be in constant exchange with each other. This is best done on site.
There are also reconciliation processes, for example, in IT companies. What is different with you?
With our mixers and showers, we make products that you can touch. Since we have subsidiaries in 42 countries and export 80 percent of our products abroad, we have to, for example Design adapt to the respective markets. This requires several coordination between product development, designers and sales, which can only be done on site.
Folgt man dem Workplace of the Future"-Report des IT-Unternehmens Citrix, dann nutzen Unternehmen flexible Arbeitsplatzlösungen auch, um Bürofläche zu sparen. War das für Sie bei der Einführung von Home-Office-Lösungen ausschlaggebend?
Of course, it is ideal if two teleworkers share a workplace, but that was not the point: On the one hand, flexible working hours were also repeatedly addressed by applicants for whom leisure and private life have a completely different status today than they did 20 years ago - keyword generation Y. Companies today need to look at employees apply - not the other way around.
Above all, however, the topic was actively in demand by our employees, who are returning from maternity protection - as a company, one should respond to the needs of its highly qualified workforce.
For the same reason, we offer, for example, during the school holidays a care for the children, with which then for example excursions are made. And even if family members are ill, we help with consulting services to find suitable help.
You were just talking about the generation Y - do you feel a skilled labor force?
So far we have still been able to cushion any problems, but that is also because we are training disproportionately ...
What exactly does that mean in numbers?
Overall, we employ approximately 140 trainees, each year, 40-50 are added, and almost all of them are usually taken over as well.
Nevertheless, of course one must be prepared for the demographic change: The location Schiltach is located in the countryside, the next largest cities such as Stuttgart are about 90 minutes away. You have to come up with something to be attractive as an employer.
What do you think? What does your employer branding look like?
We have set up a comprehensive campaign, where our own employees appear as testimonials on ads and in Youtube videos and promote Hansgrohe as an employer. We are also targeting the graduates at trade fairs.
Most successful, so that Feedback, our personnel marketing is always there where who has come into personal contact with the potential employees or when they have got to know the company personally.
What are you looking for?
In principle, all: engineers, computer scientists but also business economists who can be used flexibly. Although we manufacture 80% of our products in Germany, we also have production sites in the USA, China, France and the Netherlands, and we have approximately 42 employees worldwide with our 3.500 subsidiaries.
That's why we always expect applicants to have an international background: they should have studied, lived or even worked abroad at least once. Internationality is an increasingly important economic factor.
Do you also advertise your employees abroad?
Good 10-12 percent of our employees come from abroad, but have been part of a long time in Germany. Recently, we specifically searched for business development in Latin America and found it in Portugal.
Of course, to hire someone like that, a company must also be prepared to help them with housing, bureaucracy and languageCourses.
Find out more - our books on the subject