Yesterday the social media celebratedHR-Scene itself again - at the Social Media Personal Marketing Conference (SMPC) in Kerpen near Cologne. The innovator awards won the usual suspects and everyone seemed happy too. If only you don't lose sight of the target group out of sheer enthusiasm!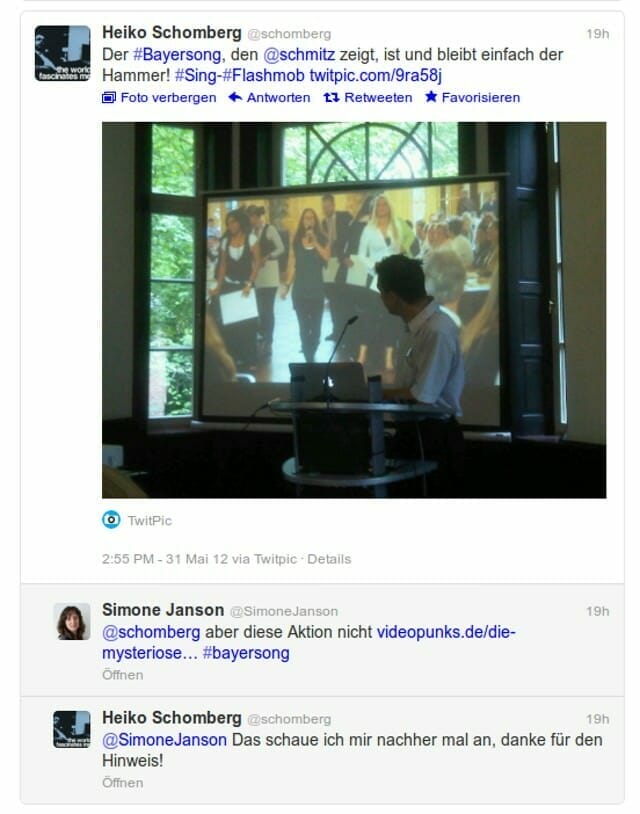 Personals: (too) enthusiastic about their own ideas?
Yesterday I received the above tweet from Heiko Schomberg, HR from Detecon International. He was enthusiastic about the Bayersong, which Bernd Schmitz, Head of University and Talent Relations at Bayer, presented again at the SMPC.
And you can partially understand the enthusiasm, because the basic idea is really good: Employee Karlheinz was surprised to the forty-year service anniversary in the canteen with a specially composed song and flash mob of colleagues. Nice idea, honoring old employees in such a way - actually!
Video Note: If you do not see a video here, you have to activate the option "Watch videos" at the end of the page under "Privacy and cookies"!
Nice but inauthentic
You can only find this two-minute short version on youtube. Last year I was "lucky" to be "allowed" to watch the making of at a press event - the whole thing lasted about an hour, plus there was a lecture on it.
Tip: Text as PDF (please read the instructions!) or to this text complete eCourse or series Download. Actions or news via Newsletter!
In principle, I am pleased when people enjoy their work and bring it to the outside world. And in principle, it's also interesting to know how such a song is created. If it had been an honest look behind the scenes. Here is an excerpt that can still be found on youtube:
Video Note: If you do not see a video here, you have to activate the option "Watch videos" at the end of the page under "Privacy and cookies"!
A basic problem of the scene: classic PR in a new guise
Unfortunately, the whole video and the related presentation seemed to be a bit of a challenge for me - the audience just saw what they should see from a business perspective. With a real flash mob that is about spontaneity, it had nothing to do for me. Rather with classic PR, trying to put in new clothes.
Authenticity? Wrong! And so it was quite boring. The fact that Bayer is still acclaimed for this idea by other staff and was also awarded the Social Media Innovator Award yesterday only shows the basic problem. that has the whole social media HR scene:
On the one hand, one would like to work with social media, is euphoric, and has good ideas; however, the complete implementation fails due to the classic company structure. And so a classic advertising product comes out again.
To be honest, how realistic is it today in times of mobility, job hopping, fluctuation and economic crises, that young people will eventually celebrate their fortieth anniversary at one Company to celebrate? How realistic is it even today to do the same job for 40 years?
Old baking and still hipp?
Bayer, however, took the advantage of the hour with this video to suggest just that: that you could get a solid, secure job in such a traditional company. Stale and yet hip - the contradiction is easily resolved:
At the same time, you want to catch up with a lively, catchy song, which moves musically at the level of the Eurovision Song Contest, supported by a pretty singer, young people. Only I doubt that this music style has so completely met the taste of the target group.
Professionals win with a recruiting song?
For the company is actually about the future specialists of tomorrow of itself to win. They will hardly be convinced by such a song, but ultimately only by the facts like working conditions, development opportunities and the salary.
But the main thing, the staff and marketing executives like it - so good that one of the birthday serenade made ado the new Bayer recruiting song, which was professionally recorded by employees of the company.
Video Note: If you do not see a video here, you have to activate the option "Watch videos" at the end of the page under "Privacy and cookies"!
The anniversary video was still considered personable gesture of the company and in this way also achieved the corresponding number of hits and comments, this was apparently no longer the case with the follow-up video, which is much more promotional.
Because with its access numbers one has apparently helped a little in a mysterious way when clear that viral success of the video leaves much to be desired - as video punk Markus Hündgen explains:
More than 130 000 releases - there should hum the comments. Or not. Whole 18 comments got lost in the video. Two of them are spam, three are removed and the poor remnant are only moderately enthusiastic. A user with the name "Tumbolisu" got to the point at an early stage: "I think he only has so many clicks because of sites like steampowers. net. after all, there are only 3 comments but 85.578 views. "
Please keep the target group in mind!
One thing is clear: who sell wants, has to be convinced of his product - because only then will the enthusiasm be transferred to others. That applies to Employer Branding just like for all other marketing areas.
Euphoria and enthusiasm for what you do is great and helpful. You should never lose sight of your target group.
Buy text as PDF
Acquire this text as a PDF (only for own use without passing it on according to TERMS & CONDITIONS): Please send us an eMail with the desired title to support [at] berufebilder.de, we will then send the PDF to you immediately. You can also purchase text series.
3,99 €Book now
Find out more - our books on the subject
Or for a little more directly buy a whole book or eCourse on this topic, read on. Here you will find a suitable selection.
Buy eCourse on Demand
Up to 30 lessons with 4 learning tasks each + final lesson as a PDF download. Please send us an eMail with the desired title to support [at] berufebilder.de. Alternatively, we would be happy to put your course together for you or offer you a personal, regular one eMail-Course - all further information!
19,99 €Book now